HMD Series Membrane Dryers
THE NEXT GENERATION IN MEMBRANE TECHNOLOGY
Advancements in design allow membrane technology to efficiently dehydrate compressed air. Versatile, environmentally and user-friendly, membrane dryers are the ideal solution for low flow and point of use applications.
카탈로그 다운로드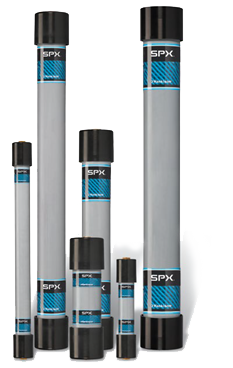 Versatile

Lightweight—can be installed without additional support
Operates in both horizontal and vertical orientation
Convenient mounting systems available
High inlet and outlet flows
Dryers may be sized to produce dew point temperatures from -40°F (-40°C) or below to +50°F (+10°C)
Efficient

Low sweep air rates — more air available downstream
Choice of Prefilter packages:

HF Series Grade 5 high efficiency oil removal filter for normal applications
HF Series Grade 7 air linet filter and Grade 6 ultra high efficiency oil removal filter for critical applications
Low Maintenance

No power source required
No moving parts to maintain, repair or wear out
No consumables to replace
No liquid condensate to dispose of
Drying Protection

Pressurized air is contained inside the membranes
Housing contains air at atmospheric pressure
No oil/water emulsions or chemicals to dispose of
Durable Construction

Maximum working pressure for all models: 175 psig (12.3 kg/cm2)
Maximum inlet temperature: 150°F (66°C)
How it Works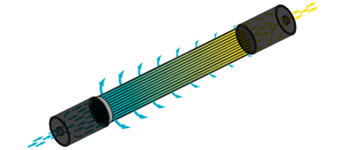 Compressed air, saturated with water vapor, flows through a bundle of tube-shaped hollow membrane fibers. A sweep orifice installed at the end of the bundle meters the amount of sweep air required to remove the water vapor from the dryer. Dry air then exits the tube bundle for use downstream. As long as the dried air isn't exposed to temperatures below the specified pressure dew point, no troublesome liquid water will form in the air system.
Product Specifications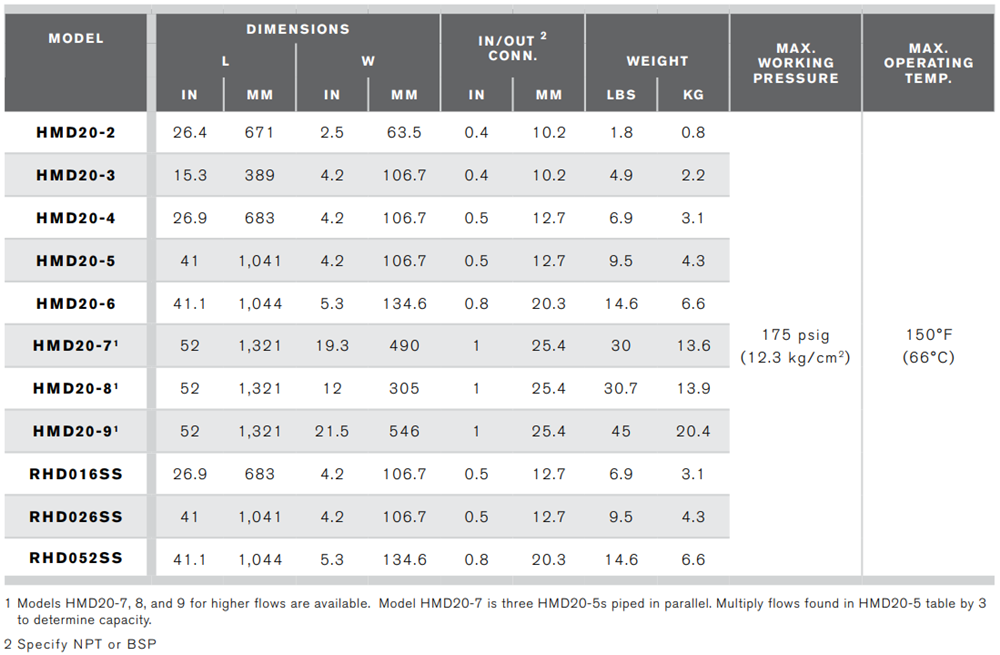 HMM Series Membrane Dryers
CONTINUOUS FLOW MEMBRANE DRYERS
HMM Series modular membrane compressed air dryers provide clean, dry compressed air wherever you need it.
Designed for continous dlow applications, HMM Series dryers pass a constant side-stream of dry sweep air to exhaust the extracted water vapor into the ambient sur-roundings.
카탈로그 다운로드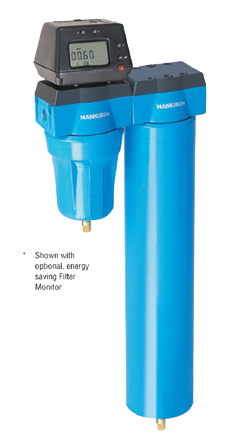 MODULAR HF SERIES AIR PREPARATION

Operation requires the removal of contaminants like liquid water.
compressor lubricant, dust, rust, and pipe scale before entering the dryer. Clean, filtered, compressed air will rewald you with many years of satisfactory performance from you Modular Membrane dryer.
Simply select the series and model that meets your requirements, then, add the level of filteration you need.
FILTER PACKAGE RECOMMENDATIONS
Application
Max. Liquid Inlet Content To Filter
Recommended
HF Series Filtration
Space-sensitive
OEM's & Pkgs.
1,000
ppm w/W
Prefillters : Grade 5 - 0.008ppm (0.01 mg/㎥) oil removal
General Industrial Point-of-use
2,000
ppm w/W
Prefillters : Grade 7 - 1 micron particulate
Grade 3 - 0.0008ppm (0.001 mg/㎥) oil removal
Foods & Pharmaceuticuls Direct & Indirect air contact with air product
2,000
ppm w/W
Prefillters : Grade 7 - 1 micron particulate
Grade 3 - 0.0008ppm (0.001 mg/㎥) oil removal Grade 1 - 0.003ppm (0.001\4 mg/㎥) oil removal
TYPICAL APPLICATIONS
Original Equipment Manufacturers (O.E.M.)
NEMA 7 Hazardous Environments (HMM Series only)
Paint spray Booths
Dust Collectors
Coordinate Measuring Machines
Fluid Agitation
Dental, Medical, Distilling, Photo Processing, Packaging, Graphic Arts, and Dry Cleaning Equipment
Instrument Air
Locomotive Air Brakes
Oil & Gas Wells
Ozone Generators
Air Logics
Rapid Transit Fare Collection Systems
Air Blanketing
Telephone Cable Pressurization
Ship Supply Air
Laboratory Instruments
Control Panel Purge Air
Optical Lens Cealing
Laser Optics
Welding Equipment
Chemical and Gas Analyzers
Dimensioning and Positioning Machines
Product Fluidization