Feature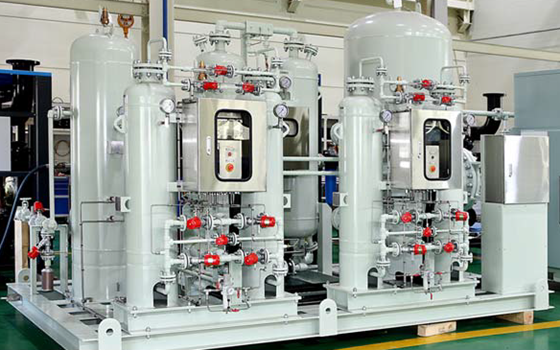 Membrane type
Low purity, 90% ~ 99%

- Compact size
- Simple design
- Easy to install
- No noise
- Portable
- Low investment
- Initial operation : several minutes
- Air pressure : 4~9kg/㎠
PSA type
High purity, 99% ~ 99.99%

- Permanent use
- Suitable for medium size facilities
- Customized sizing
- Initial operation : 30 mins
- Air pressure : 6~8kg/㎠
Application Sample (PSA type)

Specifications
Series
N2 Gas Purity (%)
Dimension
99
99.5
99.9
99.99
99.999
JN2G
(PSA)
Capacity (Nm3.hr) / 0.75MpaG, Temp max 38℃
Consult
Factory
10 ~ 2000
8 ~ 1367
6 ~ 1035
4 ~ 644
2 ~ 290
Series
N2 Gas Purity (%)
Dimension
99
99.5
99.9
99.99
99.999
JN2G
(Membrane)
Capacity (Nm3.hr) / 0.7MpaG, Temp max 25℃
Consult
Factory
0.18 ~ 61.0
0.17 ~ 50.0
0.14 ~ 40.0
0.11 ~ 30.1
0.07 ~ 21.0
Nitrogen Generators Industrial Cabinet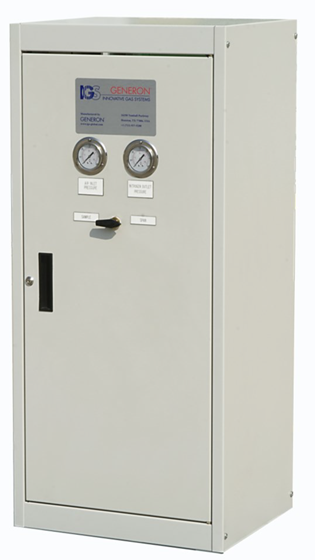 Typical Applications

Gas Assisted Injection Molding (GAIM)
Heat Treatment of Ferrous & Non-Ferrous Metals
Inerting of Flammable Liquids & Gases
Food Packaging
Laser / Plasma Cutting
Re-flow and Wave Soldering of PCBs
Brazing
Blanketing of Chemical & Pharmaceuticals
Auto Clave
Advantages of Membrane Cabinets

Low Operating Pressures
No Hazardous Storage or Connections
Low Gas Generating costs
Low Operating Cost
Easy to Install
Near Maintain Free
Extremely Low dBa levels
Easily Boosted to High pressure
For over 30 years GENERON has been the world leader in the design and fabrication of Nitrogen Generators.
In this time period, GENERON has supplied over 9,000 Nitrogen Generators from the cabinet to large containerized systems.
These systems require low maintenance and less power to run.
The GENERON NOW Series is designed and fabricated using the patented GENERON® Hollow Fiber Membranes.
This highly engineered systems enables high flow rates in a small modular design.
The membrane module contains thousands of fibers.
Compressed feed air is passed down the bores of the fibers at one end of the module with enriched nitrogen product gas exiting from the opposing end.
Oxygen and water vapor are selectively removed and vented from the feed air as it flows to the other end of the module.

Standard Components

Combine Polymer Hollow Fiber Membranes
(Increased module output performance)
Oxygen Analyzer
(With two (2) dry contact output alarms, 4-20mA output signal)
Activated Carbon Filter
With an integrated .01 Particulate filter wrap)
Powder Coated Steel Back Panel
Purity Control Valve
Stainless Steel piping, Gauges, and instrumentation
Options

Performance Heater
Product Flow Meter
Inlet Filtration Package
Auto Shut Down/Startup mode
(with manual bypass valve capacity)
Auto Standby mode
Off Specification Circuit
Expandable
(in some series sizes)
Special Options

NEMA 4X (316 Stainless Steel)
HMI Display Screen: Displays Inlet pressure, outlet pressure, system run status, O2 concetraion
Demister
Dew Point Analyzer
Enhanced PLC for Telemetry
Hazardous Area Classifications