스마트 에어 드라이어
SMART - Dryer
드라이어 에너지 절감의 진단 및 개조 Solution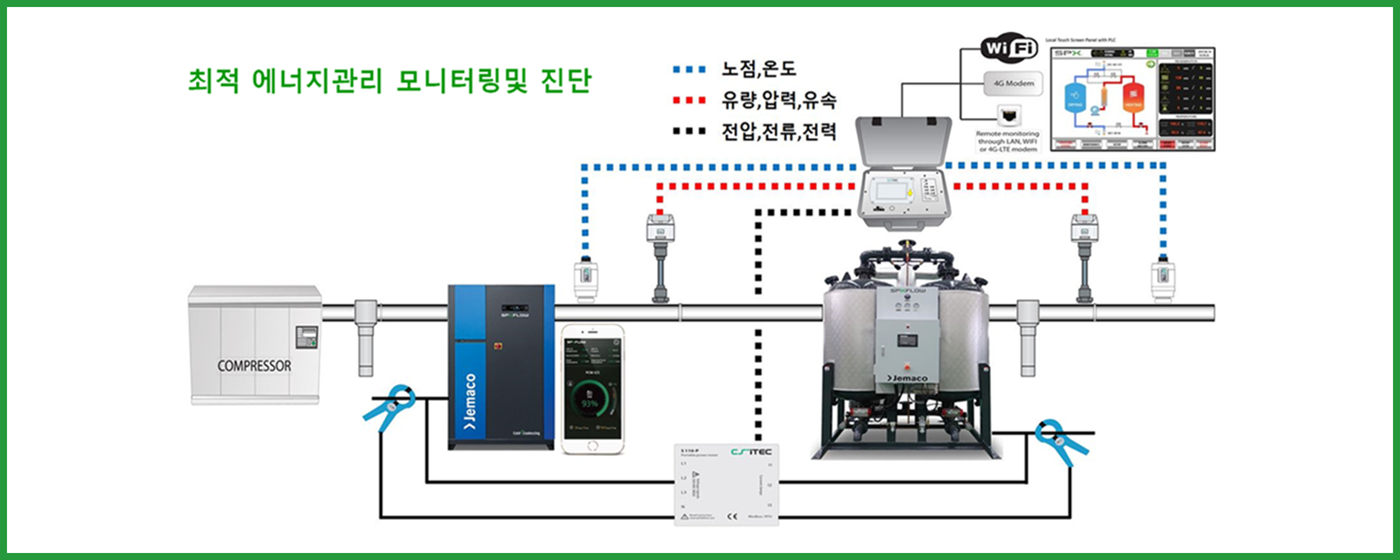 1. 현황

신기술 도입 전의 산업현장에 설치된 드라이어는 노후 및 구태된 운전방식으로 인해 품질불량 및 높은 비용이 발생됩니다.
실제 사용되는 에어 유량이 얼마인지? 에어의 품질은 어떻게 되는지? 드라이어 유지비용은 어떻게 되는지?
드라이어의 실질적인 상태확인을 하지 않고서는 에어 품질 및 비용을 잡을수는 없습니다. ∴ Audit하지않은 귀사의 드라이어는 상당히 불합리하게 관리 되고 있습니다.
2. 대책

각 중요 부위에 검증된 계측설비를 바탕으로 전문 측정인원의 정확한 에어 상태 측정을 진행합니다.
이후 수집된 데이터를 바탕으로 고객께 현황 보고 및 방향성을 제시하여 품질향상 및 에너지 절감진행을 도모합니다.
3. 주요내용

냉동식, 흡착식 드라이어의 에어 계측 서비스 및 통합관리 보고
노후, 에너지 과사용 드라이어의 개조 및 설비개선
대형 플랜트 AIR 제습 관련 엔지니어링 기술 제공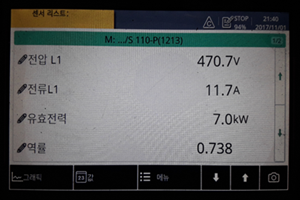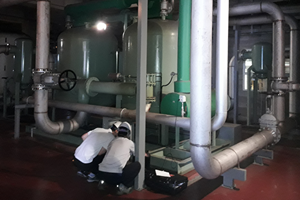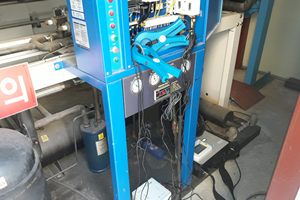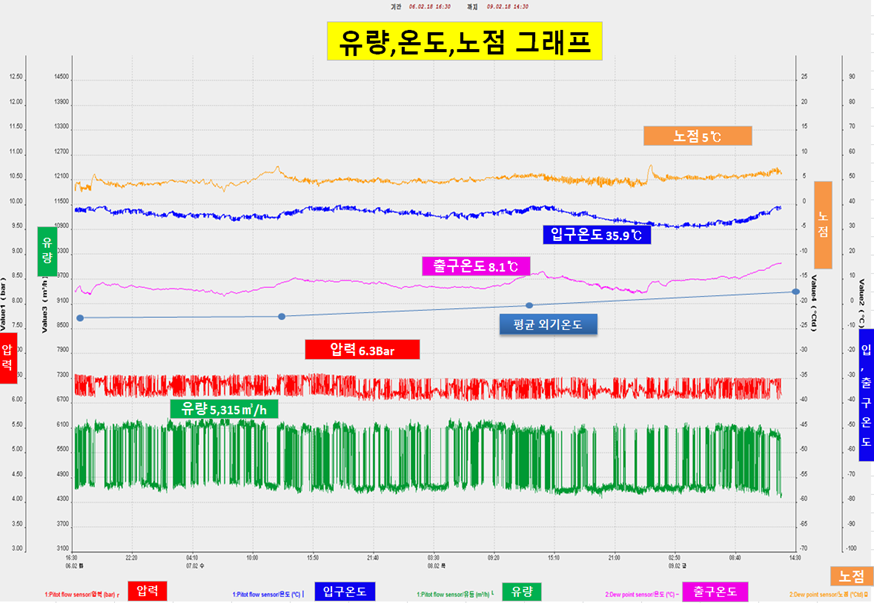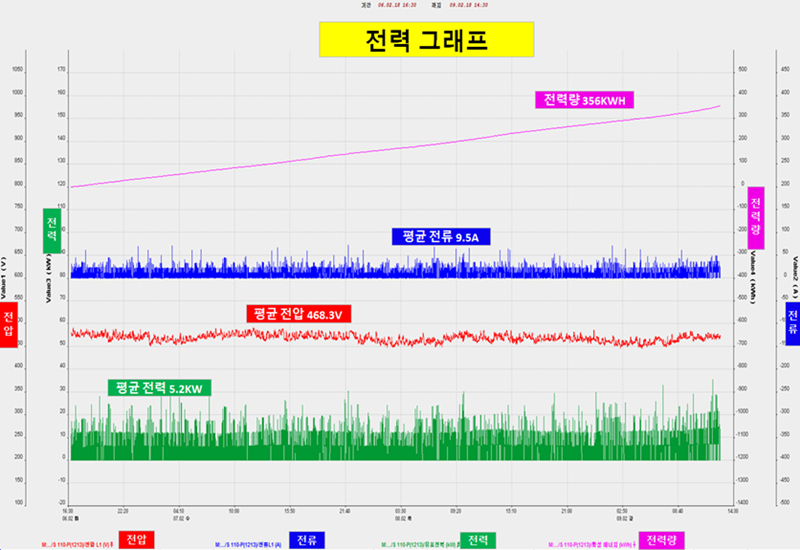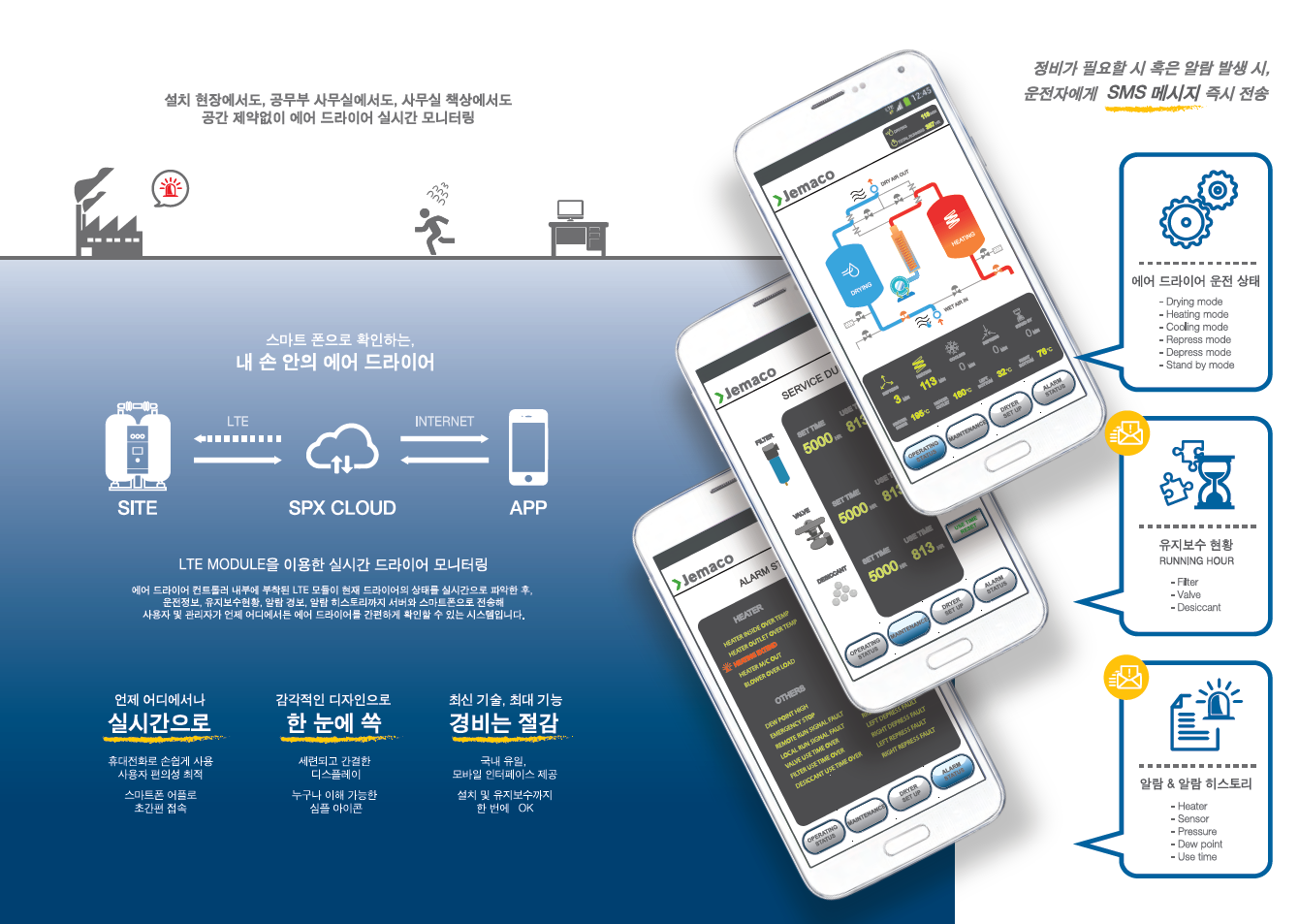 S 551 COMPRESSED AIR ANALYZER
The ideal data logger for energy analyzes (ISO 50001) and air audits (ISO 11011)
Easy to use

Just connect the sensor and start the recording, no configuration and programming required
Easy operation through color-touch display
Flexible

Connectable sensors for all required measurement tasks (air flow, air consumption, power consumption, pressure, temperature and many more)
Up to 24 inputs through extension boxes and Modbus
Several loggers can be combined: no need to have long cables from the sensor to the logger
Third party sensors can be easily connected
Safe

Power glitches and cuts won't effect the performance: battery backup power
Efficient

S 551 does the job on the site
Data analyzes in the office
Price worthy solution
Full software package includes:

CSM-S for basic analyzes
CAA for compressed air audit analyzes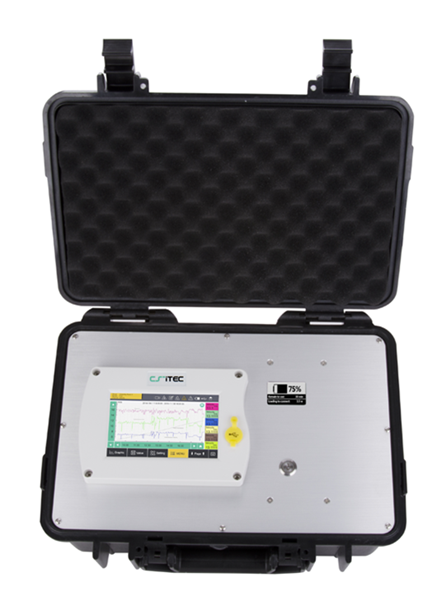 Includes CS-iTEC Compressed Air Analyzer Software
S 430 PITOT TUBE FLOW / CONSUMPTION SENSOR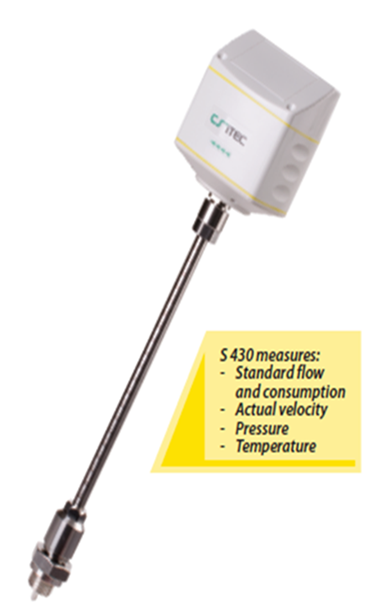 S 430 is based on the pitot tube principle to measure flow.
Properly installed (refer to instruction manual for details) the sensor can measure in wet and dirty gases as occurring, for example, at the discharge of a compressor.
The sensor features long term stability, wide turn-down ratio and good temperature stability. It can be used in compressed air and non-corrosive gases.
Through a 1/2" G-type ball valve the sensor can be inserted into the pipe under pressure
Various output signals allow the sensor to be connected to CS-iTEC displays and/or third party displays and PLCs.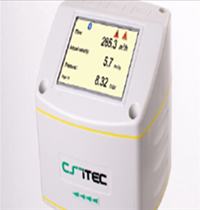 Color graphic display for online values and sensor settings
Features

Flow and consumption measurement in wet air or high mass flow / velocity applications
Measurement at compressor outlet possible
Tube diameters of 1'' to 10" Other diameters on request
Insertion type, easy installation under pressure through ball valve possible
High temperature applications up to 200°C
No mechanical wear parts
All parts which are in contact with flow medium are made of stainless steel
Technical Data S 430
Flow range
Refer to Instruction Manual
Pressure range
0 ... 1.6MPa
Temperature range
-40℃ ... +200℃
Accuracy
Flow : 0.5% F.S.
Pressure : 0.5% F.S.
Temperature : 0.5℃
Pipe diameters
DN 25 (1") up DN 250 (10")
Reference conditions
Programmable, default P = 1000hPa, T = 20℃
Medium
Wet and dry air and non-corrosive gases
Output signals
SDI (CS-iTEC : specific)
4 ... 20 mA and Pulse (optional)
Modbus/RTU (optional)
MBUS (optional)
Medium temp.
-40℃ ... +200℃
Ambient temp.
-20℃ ... +60℃
Operating pressure
0 ... 1.6MPa
Power supply
24 VDC, 150mA
Display option
2.4" color graphics displays with keypad
Process connection
1/2"G type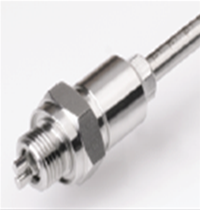 Sensor tip with the two openings for pressure detection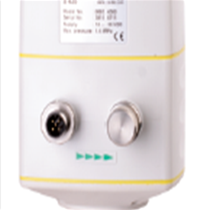 M12 connectors at the back
S 110 POWER METER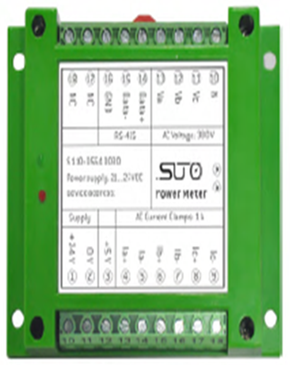 S 110 hat rail mountable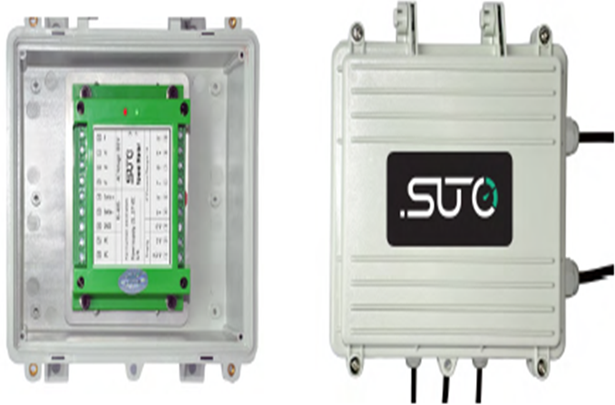 S 110-W in wall mountable casing
The SUTO Power Meters ares designed for easy installation and high accuracy. It measures the power consumption in KW and accumulates the Energt consumption in KWh of a 3-phase load. Additionally other measured parameters such as current, voltage, and power factor etc. are available as well.
Through 3 clamp sensors the current is sensed. Hat rail, wall mountable and portable versions are available.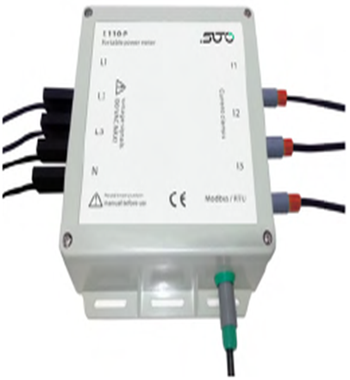 S 110-P, for connection to S 551
Technical Data S 110
Nominal voltage(L-N, L-L)
227 / 480 V AC
Clamp sensor input range
0...1 A
Available clamp sensor
200 A, 500 A, 1000 A
Power range
Up to 690 kw
(depending on clamp sensor)
Accuracy
Voltage : 0.2%
Current : 0.5%
Clamp : class 1
Energy : class 0.5
Output
Modbus / RTU
Supply
24 V DC / 0.5 W
Operating Tem peratur
-5℃ .... +55℃
Dimensions
Hat rail version : 110 X 90 X 31 mm
Wall version : 190 X 155 X 60 mm
Portable : 177 X 177 X 60mm
S 220 DEW POINT SENSOR (-100º ... 0ºC)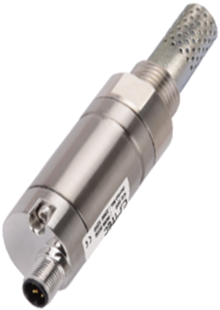 The SUTO dew point sensor S 220 provides reliable and long term stable dew point monitoring in industrial applications.
SUTO is using a new sensor technology which has superior signals at very low moisture levels thus providing reliable measurements down to -100°C.
A stainless steel sinter filter with pore sizes below 30 μm protects the sensor from particles. It's designed for applications where very low moisture levels needs to be detected.
The measured dew point is output through a 4-20 mA signal (3-wire or loop powered). Sensor parameters such as analogue output scaling, physical units, can be easily changed by using SUTO service kit.
Features

Very fast response time ensures safe and reliable indication whenever dew points are out of valid ranges
Small size makes it ideal for dryer installations
Measures dew points down to -100°C
SUTO QCM sensor technology
Version with integrated pressure measurement
Various output versions available: 1 x 4 ... 20 mA, 2 x 4 ... 20 mA, RS-485 (Modbus), 4 ... 20 mA loop powered
IP65 casing provides robust protection in rough industrial environment
Can be installed directly into dryers through G 1/2" thread
High accuracy of ±2°C dew point
M12 connector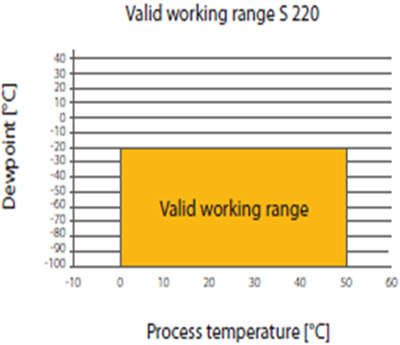 Technical data S 220
Measuring range
Dew point : -100 ... 0℃
Temperatur : -30 ... +70℃
Pressure : 0.05bar
Accuracy
Dew point : 2℃
Temperatur : 0.3℃
Pressure : 0.05bar
Pressure range
-0.1 ... 1.6MPa (model 0699 0223 and 0699 0224)
-0.1 ... 5.0MPa (all other models)
-0.1 ... 35MPa (optional on request)
Power supply
12 ... 30VDC / 30mA
Measured gas
Non-corrosive gases
Ambient conditions
0 ... 50℃
Transport temperature
-30 ... +70℃
Response time [90%] (at 4 l/min, perforated cap)
-80 ... -20℃ : 20 sec
-20 ... -80℃ : 3 min
Output signal
4 ... 20mA, 3wire (0699 0220, 0699 0221, 0699 0223)
Modbus / RTU (0699 0222, 0699 0224)
Loop powered 4_20 mA (0699 0025)
Analog output scaling
4 mA --> -100℃
20 mA --> +20℃
Connecrtor
M12, 5 pole
Wire sizes
Connector terminals support 0.14 ... 0.75㎟
Casing
Process connection : stainless steel
Casing : zinc alloy
Classification
IP65
Process connection
G 1/2" thread (ISO 228/1)
Sensor protection
A : stainless steel sinter filter, pore size < 30μm
B : Perforated sensor cap (standard, required a prefilter 0.1μm)
EMC
According to IEC 61326-1